They say Hollywood is not very good at portraying real history and that's certainly the case with Annie Get Your Gun. We have no idea whether Annie Oakley sang in real life but she sure does in this one. Although in this instance Hollywood doesn't have to take the blame for fictionalizing an actual person. Broadway did that long before Tinseltown came a calling.
Wolves At The Door



Wolves At The Door
By the age of 8 Annie Oakley (born Phoebe Ann Mosey) had already become extremely proficient with firearms. In many ways that skill was born out of necessity in helping to support her family who due to circumstances was always on the verge of being overtaken by abject poverty. Annie hunted game and sold what she bagged to restaurant owners and shopkeepers.
Life was tough but by the age of ten Oakley found it could get a whole lot worse. A promise of money and an education in exchange for helping one of the area families turned into a living nightmare. Oakley became a slave and endured all of the harshness and cruelty that went with it.
Finally deciding enough was enough Oakley ran away and was eventually reunited with her family. Yet at the same time her reputation for marksmanship was growing. It would take a monumental leap forward on Thanksgiving Day 1875.
Meeting Frank
Jack Frost owned a hotel in Cincinnati when shooting Champion Frank Butler of the Baughman and Butler traveling show wagered one hundred dollars that he could beat any of the local area sharpshooters in a contest.
Frost had a surprise for the former dog trainer:
"The last opponent Butler expected was a five-foot-tall 15-year-old girl named Annie."
When Butler first laid eyes on Phoebe Ann Mosey he knew the bet was lost:
"I was a beaten man the moment she appeared," Frank later said, "for I was taken off guard."
Her appearance wasn't the only thing that caught Butler off guard. It was Oakley's remarkable prowess as well. According to accounts Butler hit 24 out of 25 targets, a pretty impressive feat and in most cases good enough to win the bet.
Except Annie nailed 25 out of 25. Butler had lost the contest but he also lost his heart. It wasn't soon after their initial meeting that Butler started courting Oakley and on August 23, 1876 they were wed.
Let the girl shoot
Meeting Frank Butler may have been the ticket out for Annie and her family but that didn't mean Butler was ready to take her on as a full fledged partner.
Six years after they were married he had no choice.  Butler's regular partner was unable to go on one night and as a result Annie stepped in to hold the targets.
Apparently Butler couldn't hit the side of a barn during his performance and the crowd was not happy.
Tiring of his ineptness somebody (or somebodies) shouted at Butler, "Let the girl shoot." Butler did probably figuring it was better to appease the audience instead of ticking them off any further.
He gave them what they wanted and Annie just like before rose to the occasion. The crowd went wild and shortly afterward Frank Butler had a new partner.
In 1885 they joined the most phenomenal stage show of the 19th century. The owner and impresario was one William F Cody.
Volumes have been and still can be written on Buffalo Bill Cody. While the entirety of his life is out of the scope of this post it's suffice to say that Oakley and Butler's joining up with the Colonel was a major boom to all involved. Oakley's legend was now international.
She and Butler would remain with Cody until 1901. Oakley continued performing until 1913 when she officially retired but not before waging a war to clear her name.
Phoebe Ann Mosey. A young girl who had experienced poverty and slavery at their cruelest had arrived as a global icon. And she did it by beating men at their own game.
Little Sure Shot Goes To Broadway
By 1945 Ethel Merman was "the undisputed First Lady of the musical comedy stage."  A supremely talented force of nature Merman had tried her hand in films but Hollywood never figured out what to do with her. All the things that made her so powerful in the theater did not (in their opinion) translate to film.
The theatrical talent that was drawn to this woman had a different opinion.
But it was on Broadway that Miss Merman belonged. Composers vied for her, knowing she would hit every note on the mark, hold it as long as needed, give it the right shading, follow the trickiest rhythm flawlessly. Lyrics writers were equally certain that she would make every syllable distinct and evoke every bit of laughter from a comic line.
Merman scored one stage triumph after another including Girl Crazy, Anything Goes, DuBarry Was A Lady and Panama Hattie.
Her legend would take a quantum leap forward when Dorothy Fields showed Merman the story she and her brother Herbert were working on. The story of Annie Oakley. Only it wasn't really Annie Oakley. This story was written for Ethel Merman.
Yes it is loosely based on her life but the real Annie Oakley wasn't loud. Merman was brash boisterous knew her way around a cuss word or two and had an all most unquenchable thirst to live life on a grand scale. In other words she was an absolute gift to the American theater.
Rodgers and Hammerstein signed onto produce with Irving Berlin (stepping in after Jerome Kern's death) writing the score.  Berlin outdid himself due in large part to the woman he was writing for:
"You'd better not write a bad lyric for Merman because people will hear it in the second balcony."
Berlin in one musical turned out more classics than many composers achieve in their entire career.
On May 16, 1946 at the Imperial Theater located in midtown Manhattan Annie Get Your Gun premiered. It would be the longest running show of Ethel Merman's career.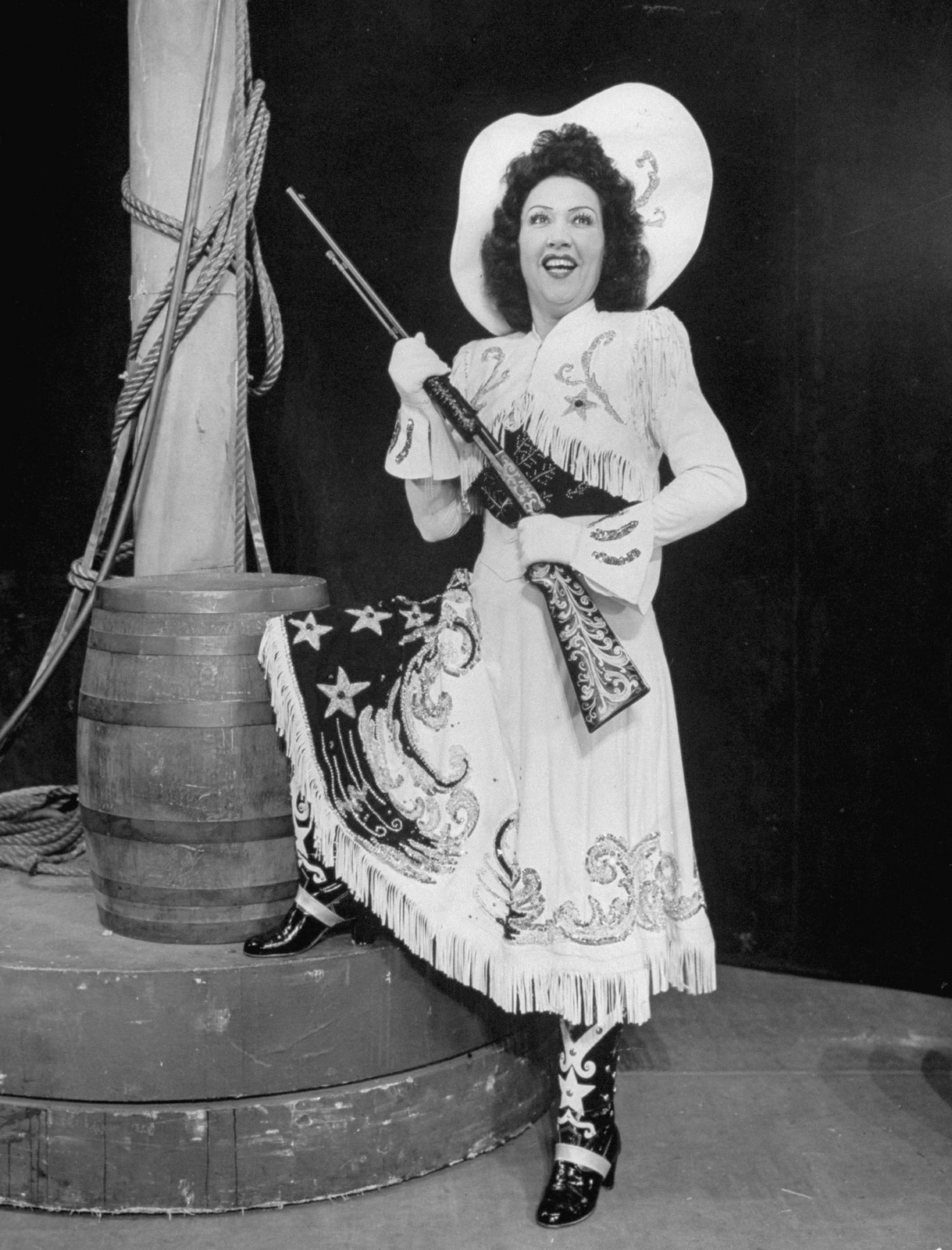 On With The Show
Hollywood wanted Annie Get Your Gun badly. It didn't matter they would have to wait until the Broadway musical completed it's run. It was a surefire hit as far as they were concerned.
Surefire as long as Ethel Merman didn't play Annie. Hollywood had tried and failed with her before and were not anxious (at least not yet) for another go round.
MGM purchased the rights and began to lay the groundwork for the big screen with Judy Garland in the starring role.
It would all come crashing down.
Judy Garland by this time was losing the battle against herself. Addiction, loss of confidence, nerves on edge and a strong sense that she wasn't connecting with this character all but doomed her chances. On May 10, 1949 MGM fired Garland who shortly afterwards checked into the hospital.
Let Betty Do It
When it became clear Annie Get Your Gun was Hollywood bound more than a few actresses expressed strong interest in playing the part. Betty Hutton was one of them. The ball of energy who wore her emotions on her sleeve was now Paramount Studios' top female star.
Paramount execs when they looked at the box office receipts were probably feeling the love just like audiences. Why wouldn't they? Maybe because Hutton had a penchant for letting those emotions race ahead in a very public way off screen as well. Take for example her initial response to not getting to play Annie.
"It's the biggest disappointment I've known. It's been my whole life, and right now it isn't worth that. I thought a really big picture success would be the greatest thing in the world. But it's a rat race. No matter how good you are in one film the next has got to be better. You've got to keep topping yourself or you're dead."
When Garland was out Paramount negotiated a deal with MGM to get Betty in. Of course she was ecstatic. Maybe too much:
"I'm so excited I can't sleep — I just lie there singing 'Doin' What Comes Naturally, For four years I've been trying to do Annie. I haven't been happy with the pictures I've had since Buddy DeSylva left Paramount and I pleaded with them to buy it for me. I really bawled them out when they let MGM get it."
When your top star tells the public she's not happy with the movies she's been making and lays you out for not getting the rights to a smash Broadway play then there's a problem. Especially when it's true.
Hutton's body of work post Miracle at Morgan's Creek is lackluster. Even upon returning to Paramount after making Annie she only made one really good movie. Cecil B. DeMille's Greatest Show On Earth.
Annie Get Your Gun was Hutton's chance to get the role. She knew what she wanted and why:
After all, Judy [Garland] is more the wide-eyed, retiring type. Annie calls for the loud kind of hokum that. I can do."
Hutton understood she was born to play Annie. Yet part of her determination may have been revenge. Merman while starring in Panama Hattie (1940) on Broadway had demanded that one song be cut from the production. Whose song got cut?
Whatever the reason Annie Get Your Gun was the role of a lifetime and Hutton was going to make the most of it.
The Rocky Road
"You have to be directed on this picture; you are playing a character. You are not playing the girl from Vincent Lopez's band."
If this piece of "directorial" advice is any indicator no wonder Hutton found the experience of working at MGM unpleasant.
Betty Hutton had been a top star at a major studio five years running.  She had worked with the great Preston Sturges on the classic Miracle at Morgan's Creek so she obviously knew something about story and character.
For Sidney to refer back to her beginnings in show business was an insult.
Yet Sidney's put down would almost seem like a high point. According to Hutton, the cast and crew (except for Louis Calhern) treated her coldly.
Possibly they were taking it out on her what MGM execs had done to Judy Garland. She was the outsider coming in and taking the role that in their minds rightfully belonged to Judy.
The treatment she received had a profound impact on Betty Hutton.
"I didn't realize they would be that cruel. On the set nobody spoke to me. They literally turned their backs.
Do What You Have To
Howard Keel was knocking it out of the park on stage. This was his second film and he would go on to make some classic musicals of the early 50's including Kiss Me Kate and Seven Brides For Seven Brothers.
When asked later on about working with Betty Hutton he was quite candid.
"She was a real grabber."
Keel is referring to Betty Hutton's gift for hogging scenes. No doubt Hutton's  co-star at Paramount Eddie Bracken could relate. And with Annie Get Your Gun the gloves came off big time.
MGM got a taste of what Paramount already understood. Betty like Ethel was loud and if she didn't feel things were going right people were going to hear about it. Loudly.
Hutton knew what she had to do. Go into hostile territory and make this part her own and if that meant stepping on some toes then so be it. They didn't want her to begin with and she didn't care.
She was there to take advantage of the opportunity she had made and like Oakley and Merman before her Betty Hutton rose to the occasion:
And, indeed, on behalf of Miss Hutton, it must be said that she, too, imparts to the role of the fabulous lady marksman a great deal of humor and bounce. Being a bit of an athlete, as well as a singer of songs. Miss Hutton gives way to acrobatics with vast liberality, and she also lets facial contortions do a lot of her comical work.
This may have been her theme song while working at MGM.
Annie Get Your Gun was one of the top five movies of 1950 grossing over seven million dollars (69 million in today's terms) and combined with King Solomon's Mines (#1 that year) and Father of The Bride(#5) gave MGM a sorely needed boost.
All the griping and complaining couldn't hide the fact that like it or not Betty Hutton had been right all along.
To Be Frank
One thread running through all the productions of Annie Gets Your Gun is Frank Butler does not come off too well. He's a "swollen headed stiff" who can't deal with someone (let alone a woman) being better than him.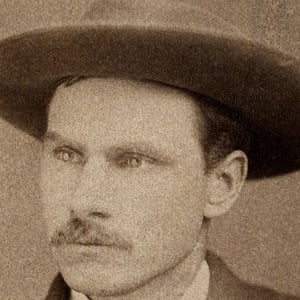 Not hardly. For one thing Butler was impressed not threatened when Annie beat him in the shooting contest. And the more famous Annie Oakley became the more Butler purposely faded into the background.
He became her manager, press agent and whatever else was needed to make sure his wife remained a star. It may have taken Butler a few years to incorporate her into the act but when he did his efforts on behalf of Oakley were genuine. A big reason being he was deeply in love with her.
In the end, the marriage of Annie Oakley and Frank Butler proved to have more staying power than their impressive careers. Annie officially retired from Wild West shows in 1913, and they thoroughly enjoyed their golden years of domestic normalcy.
Annie Oakley also put a lie to one of Irving Berlin's classics" You Can't Get A Man With A Gun". She got Butler with one and it was he who did the pursuing.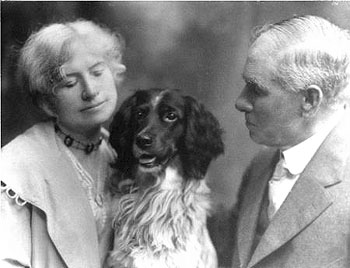 They were married for 50 years.  Annie Oakley died November 3, 1926. Two weeks later Frank Butler joined her.
Maybe Broadway and Hollywood felt a love of that magnitude and longevity would bore audiences to tears. Or that it was not possible to write a great score with the leads actually getting along. When in doubt just do the battle of the sexes and make sure the woman loses so as to appease the male ego and allow him to save face.
This earlier version with Barbara Stanwyck as Annie takes it to ridiculous extremes.
There's no telling what she would have said about Stanwyck, Merman or Betty Hutton's portrayals let alone writers and producers playing fast and loose with the facts. But when it came to not doing your best in pursuit of love or whatever Oakley spoke louder than all of them combined:
"If love means that one person absorbs the other, then no real relationship exists any more. Love evaporates; there is nothing left to love. The integrity of self is gone."
Or to put it simply 
"I ain't afraid to love a man. I ain't afraid to shoot him either."
Save
Save
Save