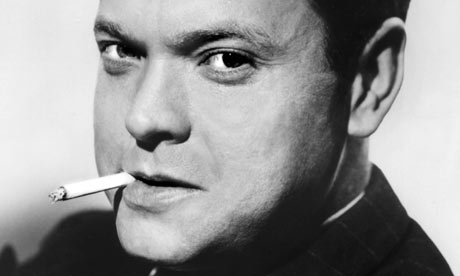 One of the first things Charles Koerner did when he took over for Joseph Breen at RKO Studios was fire Orson Welles.

The  relationship that began with high hopes between Welles and RKO had collapsed in less than 3 years .
Welles was recognized as a genius in many quarters but that brilliance never translated with movie audiences. His only two complete films for RKO studio lost money.  A third was taking out of Welles' hands before it was finished.
The Hearst machine had a lot to do with blunting Citizen Kane and nervous execs disturbed by the content bear responsibility for The Magnificent Ambersons.
But that doesn't mean Welles was blameless. There was a certain excess to the man and his working methods that seemed to have had no idea the word containment even existed.
"I always have to be bigger than life. It's a fault in my nature,"
You get a good sense of that from the 1943 movie Jane  Eyre where Welles insisted on top billing even though the film is about Joan Fontaine as umm…Jane Eyre?
Charles Koerner showed his contempt for this mindset by giving RKO a new slogan. One which left little doubt in Hollywood as to what he meant but more importantly who he meant it for. The new rallying cry became "showmanship instead of genius."
While he would get plenty of work as an actor, Welles' firing at RKO sent him on a nomad's journey as a movie director. Opportunities came few and far between. Projects were piecemealed together sometimes over a period of years. Welles may have still been a genius but not many people were willing to give him the benefit of the doubt in order to prove it.
Enter Charlton Heston. In 1957 Heston was gaining enough clout that when the novel Badge of Evil was to go into production he suggested Welles as a director.
There are other versions of how he wound up on the project but whatever the story Orson was hired and preceded to rewrite the screenplay.
Touch of Evil would be a tour de force for Orson Welles and as Paul Gallagher points out the end of his career as a Hollywood movie director.