I'll have to admit it right up front. There are times when I think John Ford is arguably the greatest director America ever produced.
His composition, how he is able to seemingly look inside his actors and control their psyche in order to get the desired performance he wants, his narrative power and of course those brilliant touches that when you see them will make you shake your head in wonder.
Then there are moments when I feel Ford is the most childish, redundant most ridiculous director cinema has ever witnessed.
One minute he'll show the interaction between man and woman in the most adult sophisticated manner possible. Other times Ford acts like a silly school boy who's never kissed a girl in his life.
This applies to other areas as well including what he is most famous for: The Westerns. You see some of them and think he's the only one willing to show the human face of Native Americans and the prejudice they face.
Then we're back to juvenile as now those same Native Americans become the big bad boogeymen of the West threatening civilization and white womanhood. The only thing standing up to these "savages" is the brave men of the United States cavalry. Pure Saturday matinee hackneyed cliche or in the case of Ford cliched artistry.
Which brings us to The Long Voyage Home. Written by Dudley Nichols based on a series of Eugene O'Neill short stories The Long Voyage Home tells the story of men at sea and the work, hardships and camaraderie they share.
These are classic elements for John Ford which are repeated in many of his films and when he does it well there are few directors that can match him.
As you would expect many of the Ford stock company players are on hand including John Wayne, Ward Bond, John Qualen and Thomas Mitchell. It should be noted while John Wayne gets top billing this is truly an ensemble film.
Good thing too because Wayne does the worst Swedish accent you'll ever hear. If they gave awards for bad foreign accents he would have walked home with top honors.
The Long Voyage Home may be based on Eugene O'Neill but just like John Steinbeck's The Grapes Of Wrath this is pure John Ford (reportedly Steinbeck hated the movie). You see a lot of his classic motifs.
The community dance, the drinking and rowdiness and of course the community fight. It seems like the only way you can be considered part of the family in Ford's world is to have a fistfight and in Voyage Home it's a beauty complete with a stabbing.
And then Ford shows you why he was on his own level. The sea is depicted as a friend to escape to and the most powerful adversary you will ever face.
Loneliness is real, Drinking is part of the ritual one minute then revealed as a destructive force that destroys a man's life and the lives of those he comes into contact with.
War looms on the horizon as does another  threat. Whether drugged, beaten or both the possibility of being kidnapped and forced into labor on another ship was an all too common occurrence. The stench of death even in the lighter moments hangs over the air like a shroud.
There's also a fascinating curiosity in this film and that's the actor Ian Hunter. This was his one and only film with John Ford and it shows. Not that Hunter isn't terrific because he truly is but from the start he is the outsider and the other actors as well as the director treat him as such.
What makes it fascinating is that it works. Hunter is nothing like the rest of his shipmates. He has no hate for them while far too many of them share a deep mistrust and animosity toward him.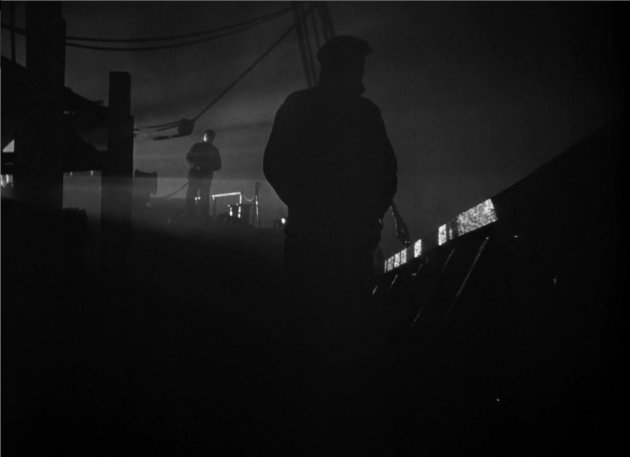 Their simmering suspicions finally get the better of them and Hunter is in effect put on trial and publicly humiliated. The pain of his personal life exposed even though it was no one's business to begin with.
It's all expertly done. Even Wayne's crummy accent in no way diminishes this gem of a film.
Kudos as well to Greg Toland's amazing black and white photography.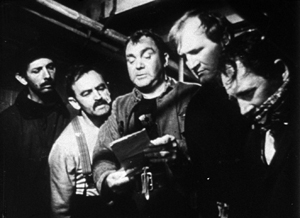 He and Ford had worked together previously on The Grapes of Wrath and apparently the two had some kind of Vulcan mind meld thing going. Ford seemed to have that with all of his cameramen.
No doubt at least for me the man could be nerve wracking. So many times I've shook my head muttering, "Not this again."
But even in those instances there's always something John Ford does that can grab and hold your attention. The Long Voyage Home is no different.
You may dread certain moments but at the end of the day you nod your head and say, "Yeah. That's why he's John Ford."